Directions
Once you arrive into St. Davids, The Cross Square:
Take the left road off called Goat Street, passed the Farmers Arms Pub on your right
Keep going down the hill, pass the St Nons Apartments on your left
Take the next right down the hill
At the bottom of the hill take the left signposted St Justinians
Keep going on the St Justinians road for 2 miles until you see and old white concrete milk stand with a milk churn and the Pencarnan sign on it
Take the right down the bumpy track and enter Pencarnan Farm Caravan Park
The caravan is the 3rd caravan on the left
Map
From the Air
View
St. Davids Caravan, Pencarnan
in a larger map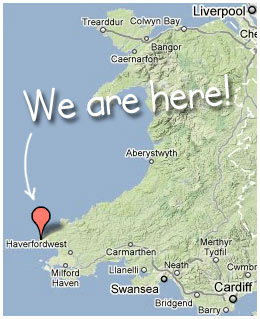 Testimonial
"We had a fantastic stay here. We thought the caravan was lovely and the views were fantastic. It was great to be so close to the quiet beach."
C. James, Newport