Caravan Prices and Rules
Prices
The caravan is available to rent from the first week in March through to Jan 1st each year. It is let from Saturday to Saturday in high and low season, and additionally in low season Monday to Friday and Friday to Monday for short breaks.
Summer holidays: July, August, 1st week in September: £750 per week
Christmas, New Year, Easter, Whitson, October Half Term: £550 per week
All other (off peak) weeks: £475 per week
Short breaks available during off peak times: £330 per Mon to Fri, or Fri to Mon
It is available from 2pm on the day of arrival. Please be ready to vacate by 10am on day of departure.
Bookings
Provisional bookings can be taken via our enquiry form, email or telephone 07855 345403. To confirm your reservation written confirmation will be needed by email or Royal Mail within seven days, together with a 50% deposit. Full payment is required 8 weeks before the holiday start date. If you are booking late, i.e. with less than 8 weeks to go before the start date of the holiday, we would require you to pay in full along with your email or letter of confirmation.
It's advisable to take out holiday insurance to cover the event of cancellation. Unless we are able to successfully re-let the caravan, refunds will not be payable if you cancel your booking after 8 weeks before the intended holiday start date.
Linen
We supply duvets, pillows and dish cloths. You will need to bring your own bed linen, towels and tea towels
Please could you ensure the following...
No pets allowed (guide dogs welcome)
No smoking inside caravan
Please abide by any of the rules or regulations that are made by the owners of Pencarnan Farm
Anything you break we ask you to pay for or replace. Please let us know immediately about breakages or damage to the caravan so we can undertake repairs as soon as possible.
If you have a complaint, please contact us at the earliest opportunity so that we can deal with the problem quickly. We cannot rectify problems once your holiday has ended.
On the day of departure, please leave the caravan as you found it, in a clean and tidy condition.
In the unlikely event of the caravan becoming unavailable on the date booked we will refund your payment in full. This is the limit of our liability.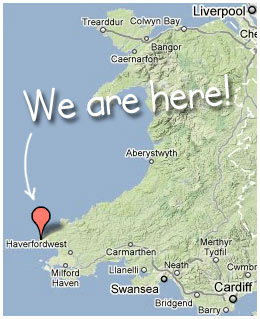 Testimonial
"We had a fantastic stay here. We thought the caravan was lovely and the views were fantastic. It was great to be so close to the quiet beach."
C. James, Newport